How we found our bargain kitty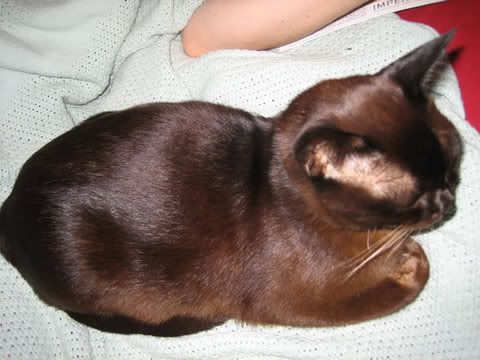 This is Queen Kitty, the gorgeous chocolate Burmese who rules The Bargain Queen's house. Queen Kitty's company would be a bargain at any price, but thankfully for The Bargain Queen's wallet she came to us de-sexed, microchipped and with all her shots, for only $150! A total bargain compared to $300-450+ Burmese kittens in pet shops, but of course we fell in love with her personality not her pedigree ;)
Queen Kitty was cheap because she came to us via the
NSW Animal Welfare League
. She was given up by a breeder and was a 'special needs' cat. She had lived in a cage for most of her life so she wasn't properly socialised and she needed a lot of attention. We were her fifth home in six months.
In the world of retail, Queen Kitty was damaged goods; a reject. She was ready to be consigned to the 85% off rack, or possibly straight to the dumpster out the back. But to The Bargain Queen, a 'damaged' pet is far better value than the pristine ones in the pet stores. They're cheaper, sure, but more importantly you're doing a good deed adopting them. Which means a formerly-homeless pet gives you a big dose of the 'warm fuzzies' just for feeding and cuddling them. And they're so cute!
Queen Kitty is now a happy, well-adjusted house cat. It took months of patience and kindness to earn enough trust that she started doing normal kitty things, but each time she did something new we were thrilled with her progress all over again. The Bargain Queen is a besotted kitty-mummy and Queen Kitty has a loving home so this story ends with a happily-ever-after.
If you're looking for a pet, The Bargain Queen says an adorable homeless kitty or puppy is the best deal there is. They're cheap, they're super-cute, and saving the life of a big-eyed furball is guaranteed to make you feel great.
There are Animal Welfare League branches all over the place; Google "Animal Welfare League" and your city to find yours. Or if you'd like a pet that's completely free (until feeding time anyway!) try: